With silver metallic accent in natural light
In artificial light
In artificial light
In strong artificial light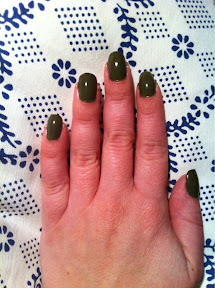 Full hand picture ;)
Perfect match! ;)
About the polish:
A dark olive green creamy polish.
Very nice opacity, full coverage in only two coats.
Normal drying time.
No chipping for days!
BUT:
it crackles inside the bottle so you must give it a good shake or roll before applying it, and it doesn't matter how long you shake or roll it, it'll never really blend... But have no fear, it won't appear like that on the nail.
BUT please note!
It will be at LEAST one shade darker after it's dried on the nail! When you have applied it, it's like dark particles rise from the deep and darkens the colour.
BUT if you are ok with these facts ;) this is a really nice polish!
And the name is so witty and funny!! I love it!!!!
Grade: 9/10