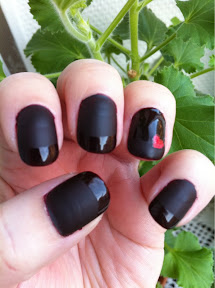 In natural light with a matte top coat and shiny tips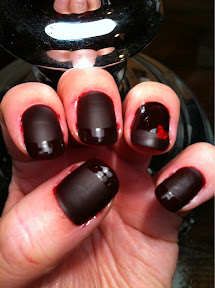 In artificial light
Pls note the opposite pattern on the ring finger ;) shiny nail with matte tip :)
In natural light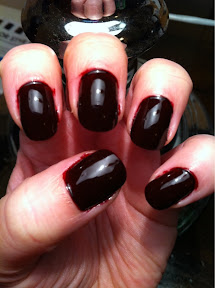 In artificial light and with no matte top coat. It is naturally very glossy!
About Red Black:
A nice black/red jelly polish. In some lights it looks just black but when you add light you can see the dark red tone in it. It looks like really dark red blood ;) maybe a Halloween polish ;)
Barry M is supposed to be famous for their opaque polishes but this one took three coats to be fully opaque! And this in spite it's a really dark colour!!! Disappointing...
The formula is ok. It has a tendency to be thinner at the cuticles but otherwise ok.
Drying time a bit on the slow side.
I played a bit the contrasts of matte and shiny and ended up with matte nail beds and shiny tips. Fairly nice actually! Try it!
Grade: 6/10